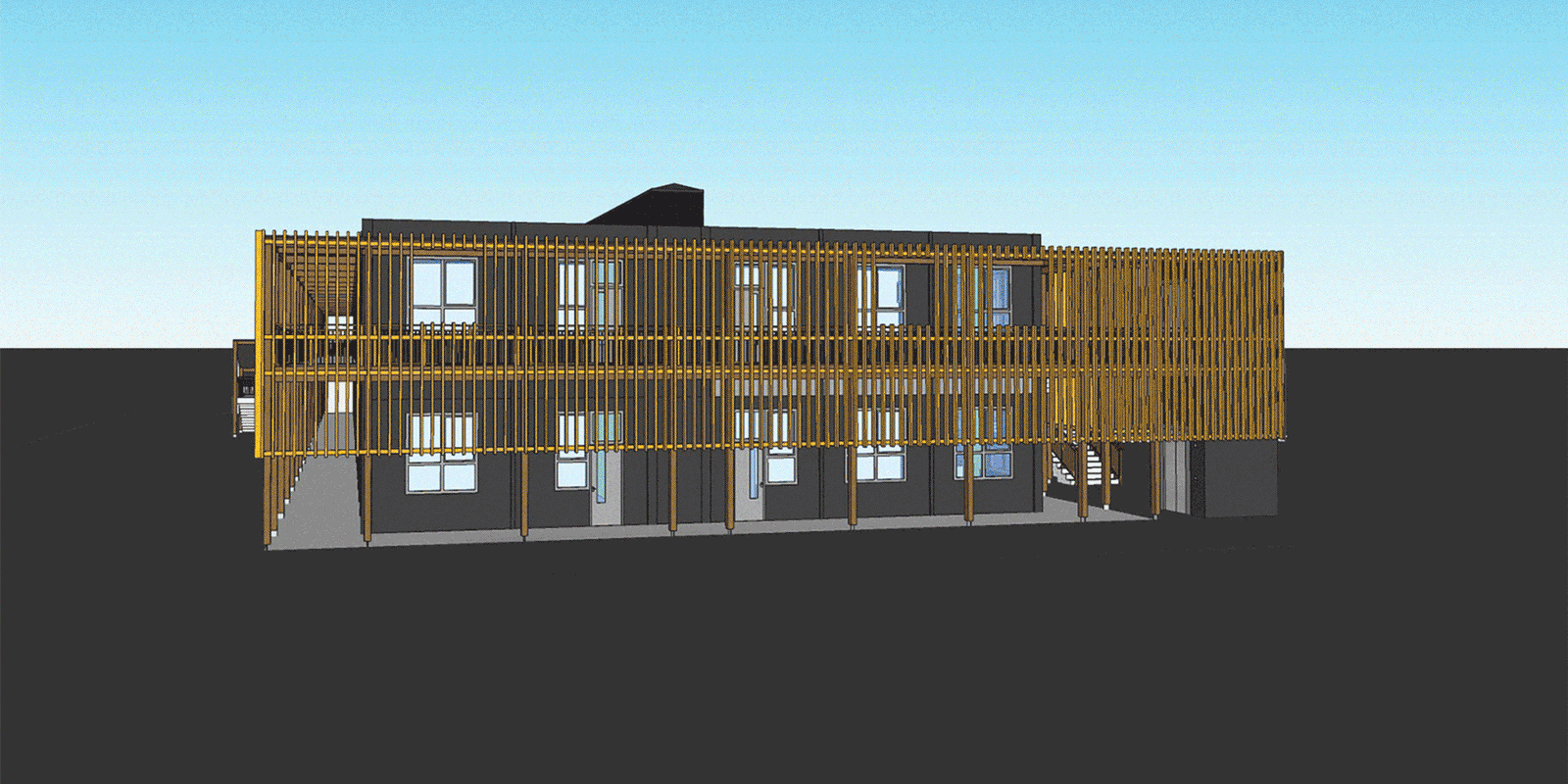 Alternative 'inside-out' naturally ventilated prototype school building
30/09/2021
---
Posted in Article
---
Tagged :
---
Related posts :

---
Alternative 'inside-out' naturally ventilated prototype school building
Funding for school building projects can be a challenge and Modern Methods of Construction (MMC) are commonly cited as a solution to delivering new school buildings on a tight budget. Mechanical ventilation heat recovery systems (MVHR) are often incorporated into this approach.
We have been designing school buildings for nearly 20 years, always looking for innovation to challenge norms. We wanted to find out more about MMC in schools, including the perceived benefit of using MVHR. So we carried out our own research and development project. The result is our alternative 'inside-out' naturally ventilated prototype STEM (science, technology, engineering and maths) building.
Our research included visiting a modular building factory and observing the assembly of a modular school building on site. We surveyed a completed modular school building and a SIPs (Structural Insulated Panel) school building. We also worked closely with a leading modular system build manufacturer to explore and develop options for a STEM building. And we discussed the pros and cons of MVHR with a low carbon consultant.
We found that typically, MMC delivers lightweight buildings with a low thermal mass so they neither store nor absorb thermal energy. Instead, many of these system builds achieve higher levels of insulation and airtightness than set by Building Regulations. Each classroom is fitted with its own MVHR system to bring in fresh air and to cool or heat the room. The MVHR system provides good indoor conditions and is possibly the most efficient system that can be installed.
But, schools investing in MVHR systems need to commit to a regular maintenance regime for every classroom unit. Poor maintenance can lead to unhealthy air and may halve the life of an MVHR unit. Each unit has an incoming and outgoing air filter which need to be cleaned regularly. Otherwise they will clog up with dust and the unit will not work efficiently and will eventually stop working.
It has been known for the filters to be left out on purpose to avoid replacing them. If that happens, the MVHR unit clogs up with dust and eventually stops working. If not regularly cleaned, the units can house bacteria and air-borne pathogens that reduce indoor air quality and can affect the health of building occupants, particularly asthma sufferers. Because the classroom has to be sealed, windows are fixed and cannot be opened. If the MVHR system fails, there is no other way to ventilate the room. The air quality in the classroom will quickly deteriorate and the space will not be comfortable, or healthy, to use.
If properly maintained, an MVHR system can last 15 to 20 years but this will fall to 5 to 10 years without regular maintenance.
An alternative 'inside-out' naturally ventilated prototype STEM building from Clay Architecture
Most school buildings have internal circulation spaces, which include corridors between classrooms, halls, and other accommodation. Internal circulation can take up to 12% to 15% of gross internal floor area, and therefore approximately 12% to 15% of total construction cost. Working on a primary school project that had 10% to 12% funding shortfall, we posed the question: Why not remove corridors altogether so that classrooms open to the outside, circulation is in the fresh air, and construction costs are lower?
STEM buildings tend to have more complex services that take up more space than other school buildings. But our 'inside-out' approach could be applied to most school building types.
While working on a project for a grammar school in Kent to deliver a design and technology / STEM building, we developed our prototype 'inside-out' school building further to include single- and two-storey versions. For the two-storey version, classrooms on the second floor classrooms open out onto an open gallery wrapped around the outside. This arrangement is very common in tropical countries.
Our alternative 'inside-out' naturally ventilated prototype STEM building is significantly less reliant on MVHR or other air-conditioning plant, with:
• A reasonably low-maintenance passive stack ventilation system
• Flexibility in design and layout, with scope for future adaptation
• External circulation and centralised services in the core of the building
The prototype is not necessarily tied to any one system manufacturer or method of construction, although we do recommend building systems with a high thermal mass, to even out daily internal temperature fluctuations and enable night cooling.
In a preliminary appraisal of several different options by a quantity surveyor, our 'inside-out' solution came in as the most cost-effective against options using a modular build MVHR system, even before whole-life costs were taken into consideration.
We believe that school buildings should breathe. They should incorporate natural and passive ventilation, thermal mass and night cooling, natural light and controlled solar heat gain, where possible.
30/09/2021
---
Posted in Article
---
Tagged :
---
Related posts :

---
---